Online Plant Market
View over 4,000 plant lines from hundreds of growers across the UK and Europe to compare, quote and order
The Big Green Plant Centre is proud to be amongst a select group of nurseries who host the Online Plant Market, a trade database for plant buying.
View over 4,000 plant lines from hundreds of growers across the UK and Europe to compare, quote and order.
This really is all your plant needs in one place! Excellent for amenity plants and bulk buying, the Online Plant Market includes grasses, alpines, field grown trees including topiary, aquatics, hedging, starter and specimen
shrubs and more.
Find the plants you're looking for and compare prices and sizes from different growers to pick what's right for you.
Create and save quotes instantly to save you time, then order plants as required. In a week or less your plants will be ready to collect or we can arrange a delivery.
Stock availability changes quickly, especially at the busiest times of year, but with Online Plant Market you can order from regularly updated quantities.
We receive deliveries weekly to Denham (M40/ M25 access) so you get the plants you need quickly and without shopping around.
Many plants listed are accompanied by photos of the stock and individual prices decrease with greater quantities ordered.
The Online Plant Market is available to you 24/7.
How it works
By registering and logging in, you will be able to see all plants and products at your discounted prices. The market allows you access to these trade prices, lets you place orders online for collection from our Nursery, allows you to build up an order over time and save it, and is a useful
resource for generating quotes for your customers.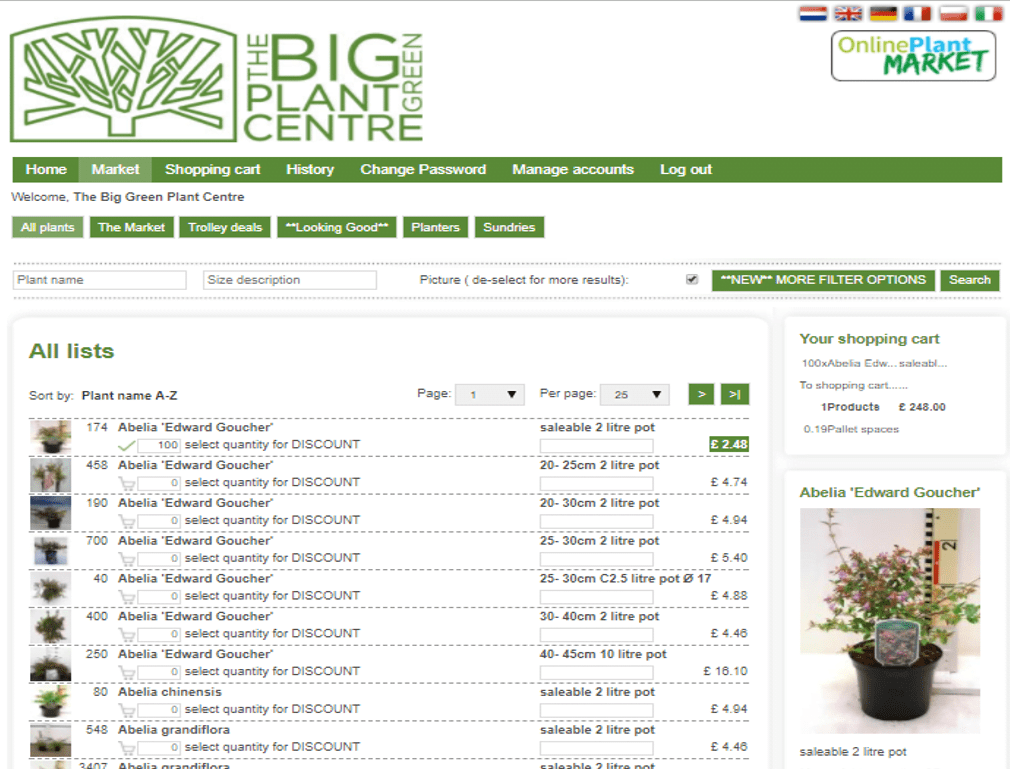 The Online Plant Market is currently undergoing maintenance.  A re-designed website will be available soon.  In the meantime, please use the link below to contact us.
How to get started
Get in touch with your business name and details so we can set you up with a username and password.  We'll send you some tips on how to make the most of it and help get you started with Online Plant Market.
When you have pulled together your order, you simply place it and you will receive a confirmation and a request for payment (depending on credit terms). No payments are taken online via the website. The stock is shipped and delivered to our Nursery ready for you to collect. 
To register please contact us.